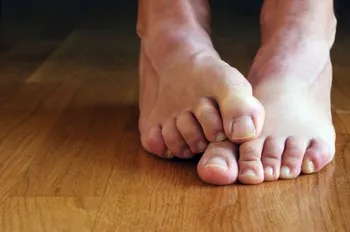 Looking for a diabetic foot care specialist in Charlotte, NC? Dr. Kristine Strauss at Charlotte Foot & Ankle Specialists is dedicated to providing you with the personalized care you need.
Diabetic Foot Care Tips
Diabetes is a condition that negatively impacts several parts of the body, including the feet. Among the many other tasks you need to complete if you live with diabetes, there are several steps you need to take to ensure your feet are in good health. The following are some of the most important.
Take a Look Every Day
Diabetes can cause nerve damage, which means that your feet could be infected, cut, or otherwise harmed without you even knowing. That's why it's essential that you take a few minutes to thoroughly inspect your feet each day.
Keep Them Clean
Though you should avoid soaking your feet, you have to keep them clean. Every day, wash your feet with warm water, dry them completely, and add lotion to them. However, avoid getting lotion between your toes.
Wear the Right Shoes Consistently
You need to make sure that your shoes fit your feet properly, and you should wear them any time you're walking around. This will help prevent any injuries to the feet.
Get Moving
Being active is not just good for your overall health and to manage diabetes. It's also beneficial for diabetic foot care. However, you should be kind to your feet, so choose exercises like walking or swimming. And when you're sitting, prop up your feet and wiggle your toes to keep the blood flowing.
Importance of Seeing Your Podiatrist
A podiatrist is an invaluable resource for diabetic foot care. They can help you choose the right shoes, keep an eye out for any issues, and even trim your toenails properly if you can't. You should have a regular check-up once a year, but you might need to visit before if you notice any of the following:
Pain, tingling, or burning
Hair loss on the lower legs, toes, or feet
Yellowed or thickened toenails
Sores, blisters, corns, ulcers, or ingrown toenails
Infections between the toes
Your feet look or feel different, such as the shape has changed or there is a change in their temperature
Following the tips above and visiting Dr. Strauss at Charlotte Foot & Ankle Specialists in Charlotte, NC can help prevent serious issues, minimizing the impact of diabetes on your feet.
Schedule your diabetic foot care appointment with Dr. Strauss today. Call Charlotte Foot & Ankle Specialists in Charlotte, NC at (704) 504-4000.